The owner of a cute Samoyed dog and a grumpy-looking cat has revealed that despite their contrasting personalities, the two pets are actually the best of friends. Rinsa Li, a 29-year-old resident of Christchurch, New Zealand, loves to capture snaps of her furry companions, Casper and Romeo. The duo enjoys spending quality time together, whether it be snuggling on the couch or taking long walks around the countryside. However, Romeo's permanently grumpy expression always manages to elicit laughs from strangers, despite his close bond with Casper.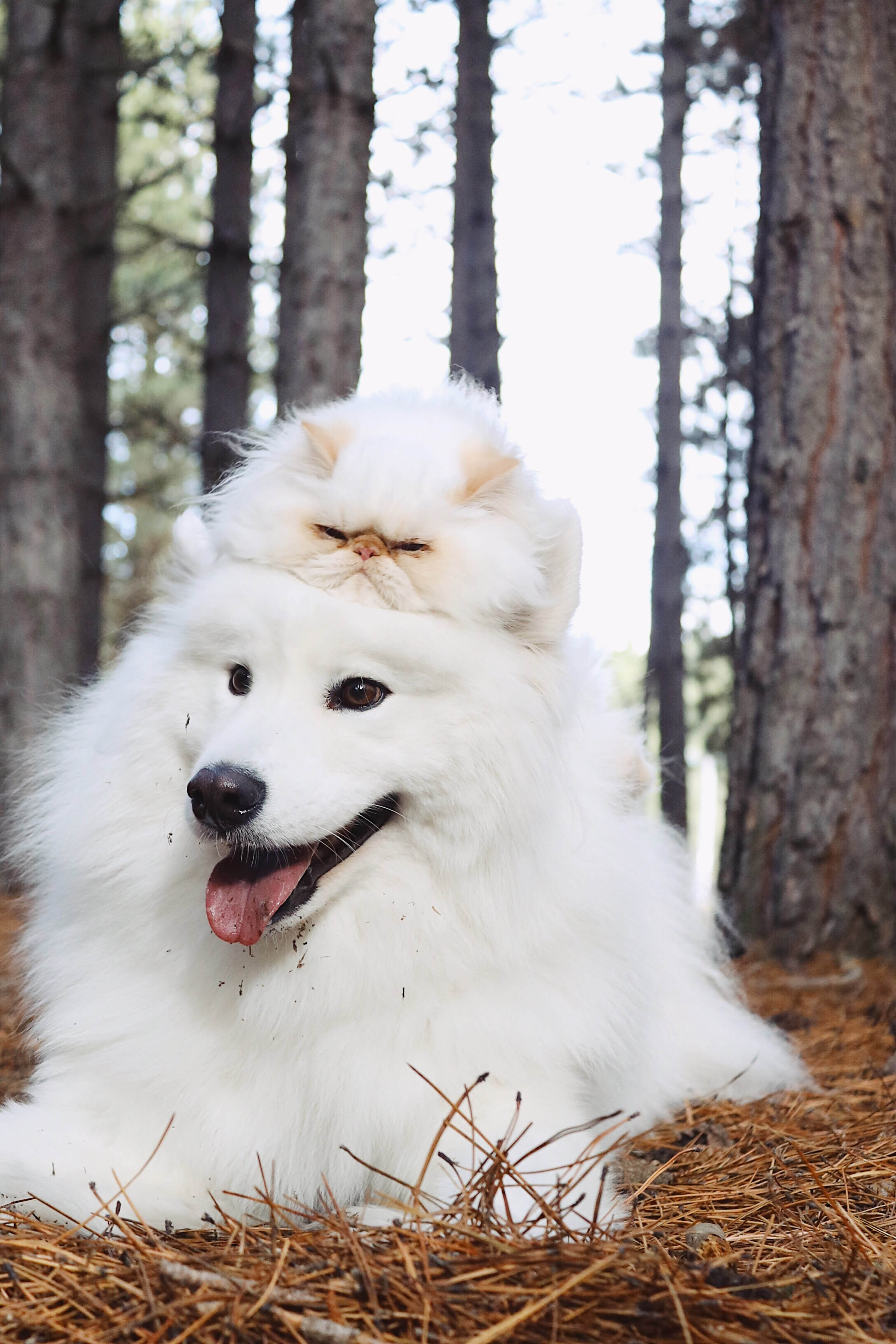 Romeo, the cat, may seem grumpy at first glance, but he actually loves his brother and best friend, Casper, the dog. The two pets often join their owner, Rinsa, on outings, including road trips and visits to popular tourist spots. They even go for a daily walk that lasts for two hours. Together, they have amassed over 65,000 followers on their Instagram account, which showcases their exciting and fun-filled moments. Initially hesitant about getting a cat due to concerns about Casper's reaction, Rinsa introduced him to her friend's feline and saw how gentle and sweet he was. They then decided to find their dream cat, and now Romeo and Casper are inseparable.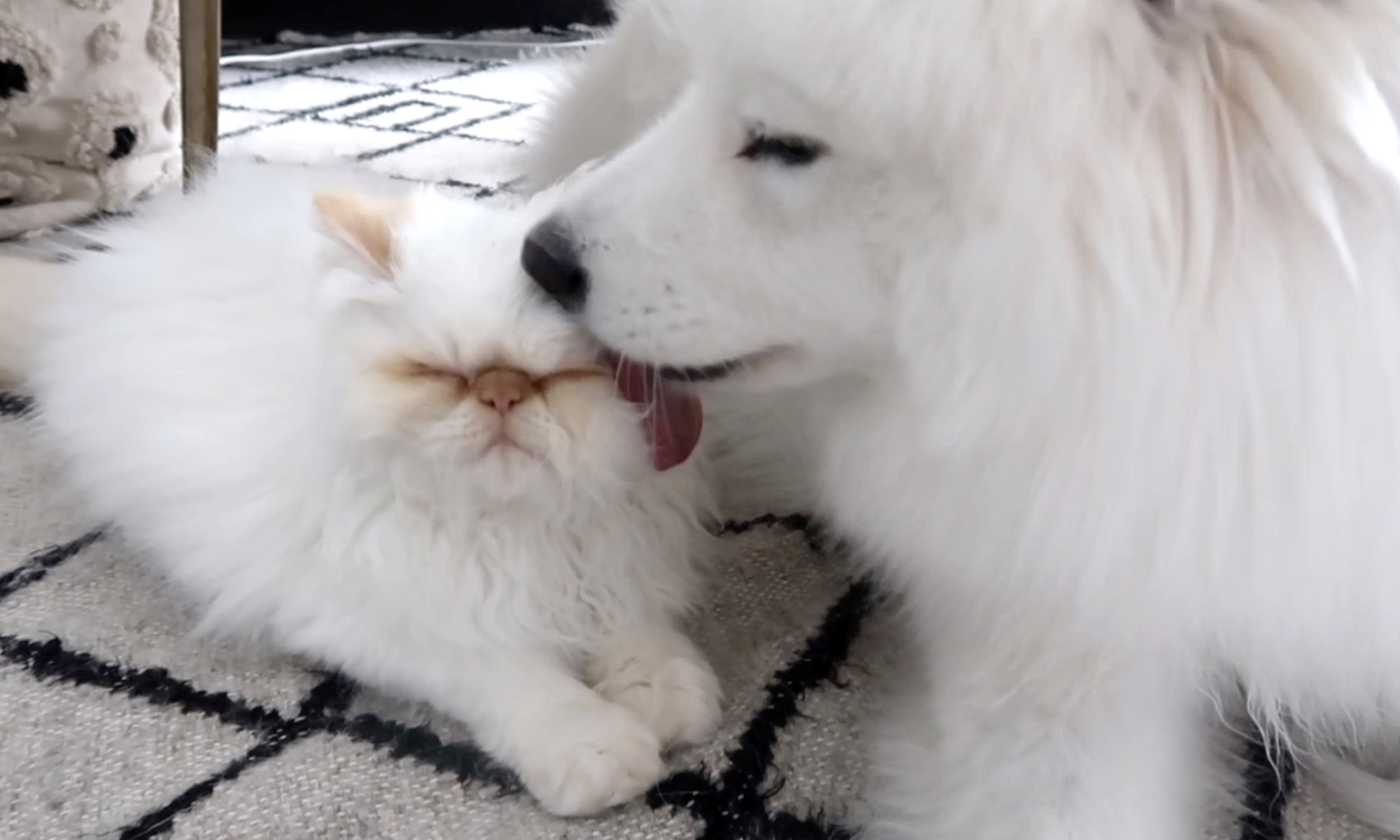 Casper plants a smooch on Romeo's grumpy face, captured in a photo by casperandromeo/CATERS NEWS.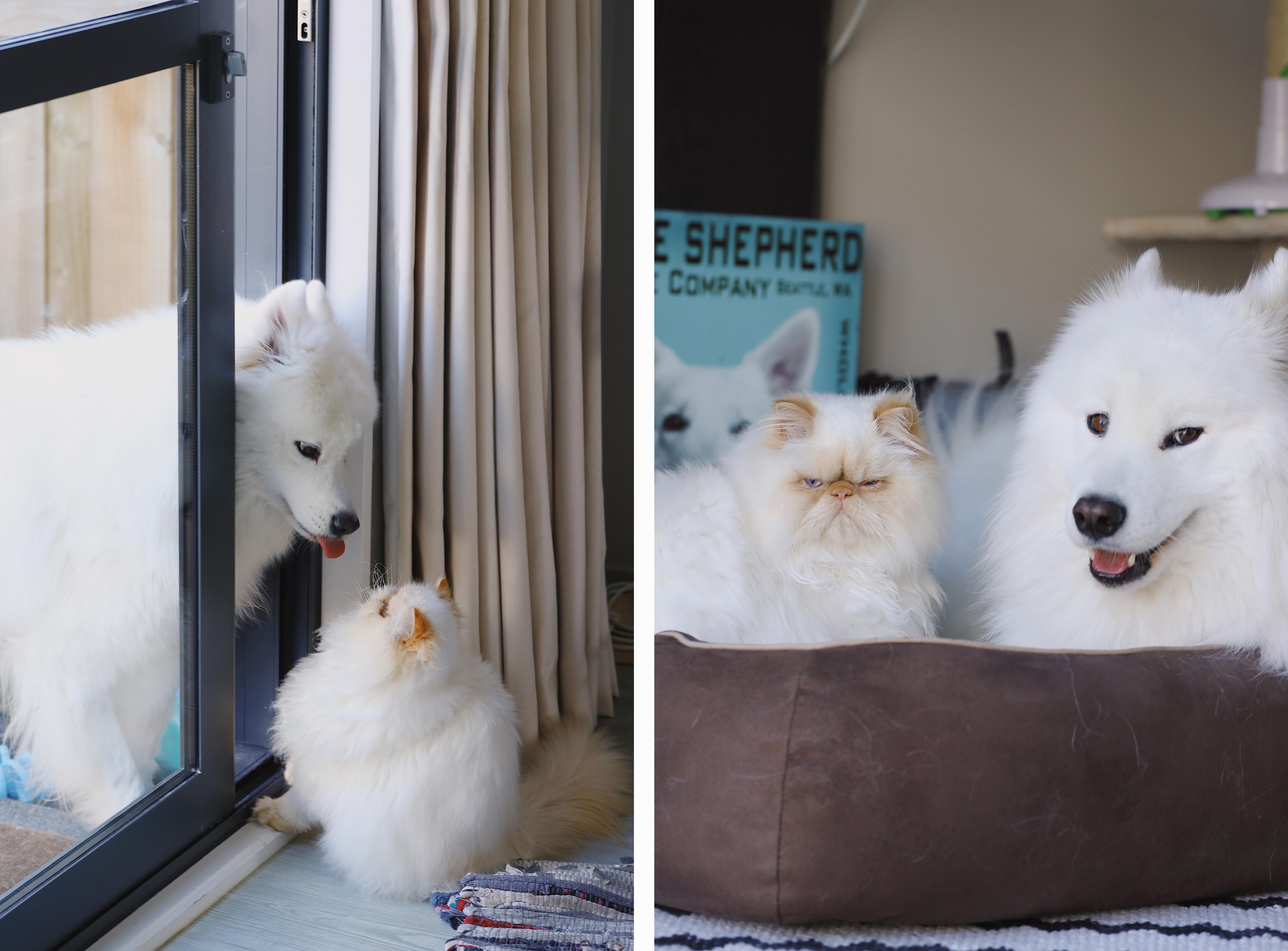 Upon introducing Romeo the kitten to Casper the Samoyed pup, Rinsa explained that they kept them apart for nearly a week. However, Casper exhibited curiosity towards Romeo from the start. Initially, Romeo felt scared and uneasy around the larger, fluffier pup. Rinsa noted that despite his size, Casper was quite gentle with Romeo, approaching him slowly and backing off if Romeo seemed frightened. Romeo eventually settled in and took on the role of "king of the house," but Rinsa observed that he often shadows Casper and seeks his attention, almost as if he has a dog-like personality while Casper embodies that of a cat.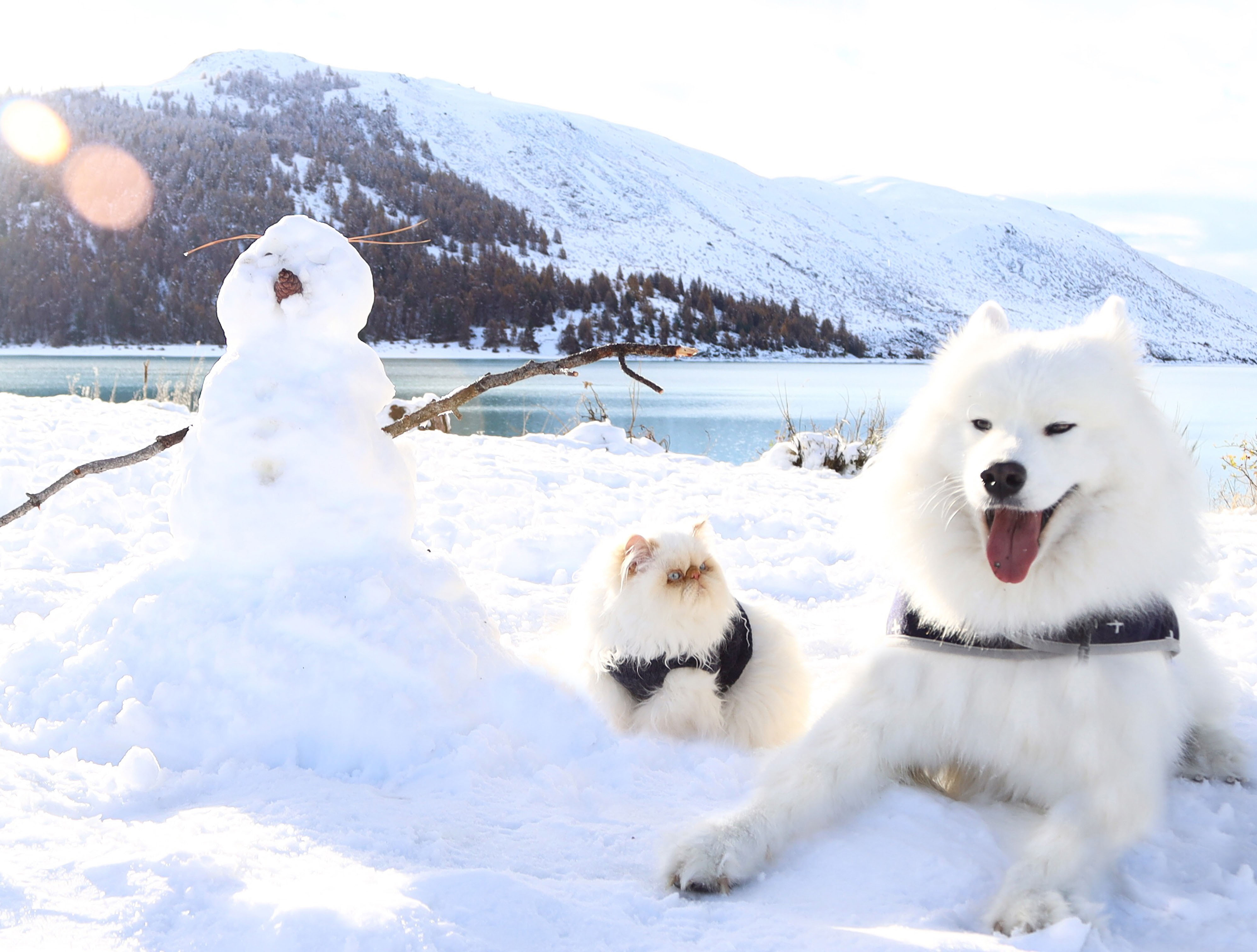 Romeo doesn't seem as thrilled with the snowman as Casper does. (Photo credit: casperandromeo/CATERS NEWS)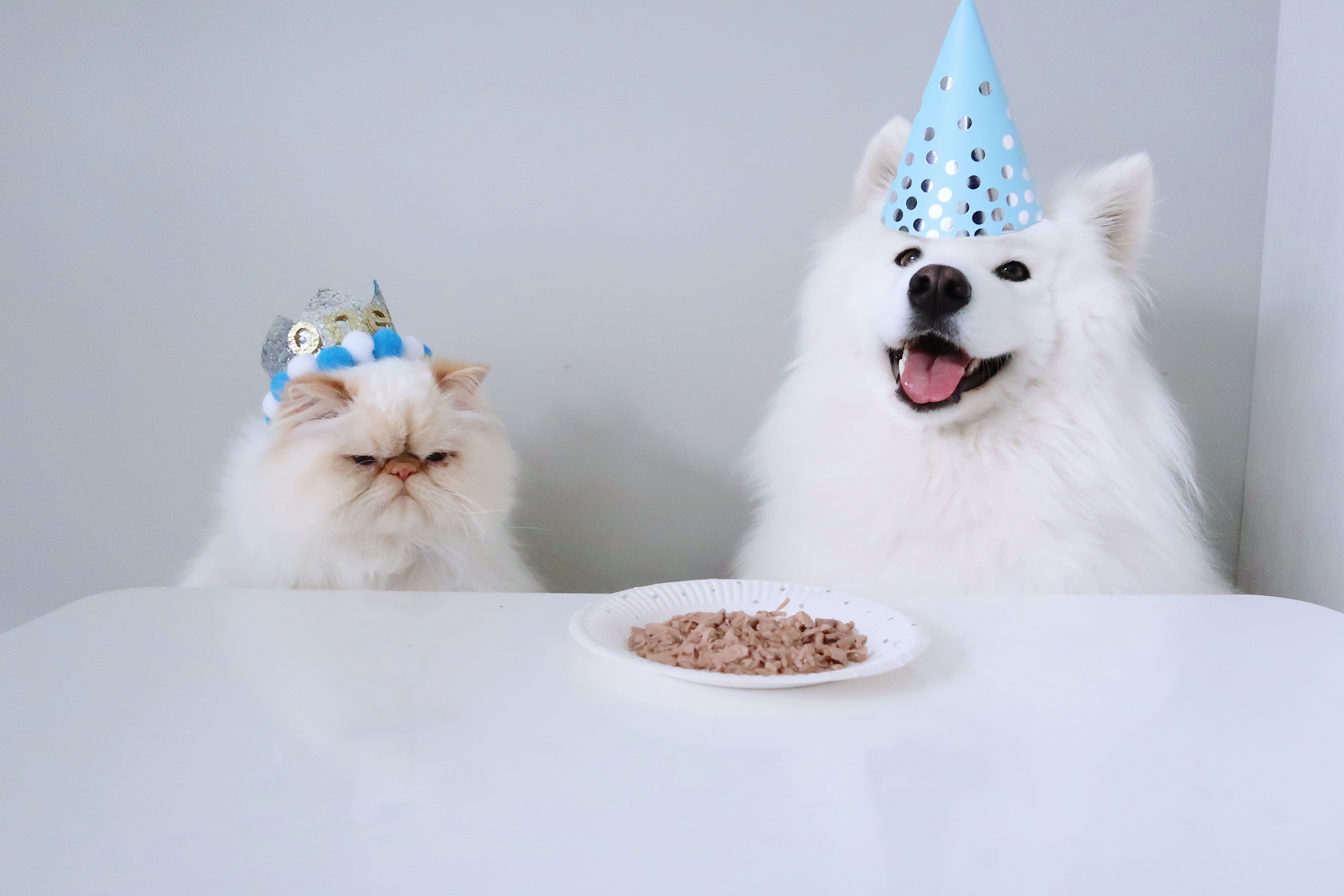 Casper is seen lending a paw to Romeo on his first birthday celebration. Although Romeo looks a bit grumpy, he is the most affectionate cat according to Rinsa. She further narrated how they go on adventures together, even taking road trips that last for weeks while staying in a camper van. Rinsa couldn't imagine not having them in her life.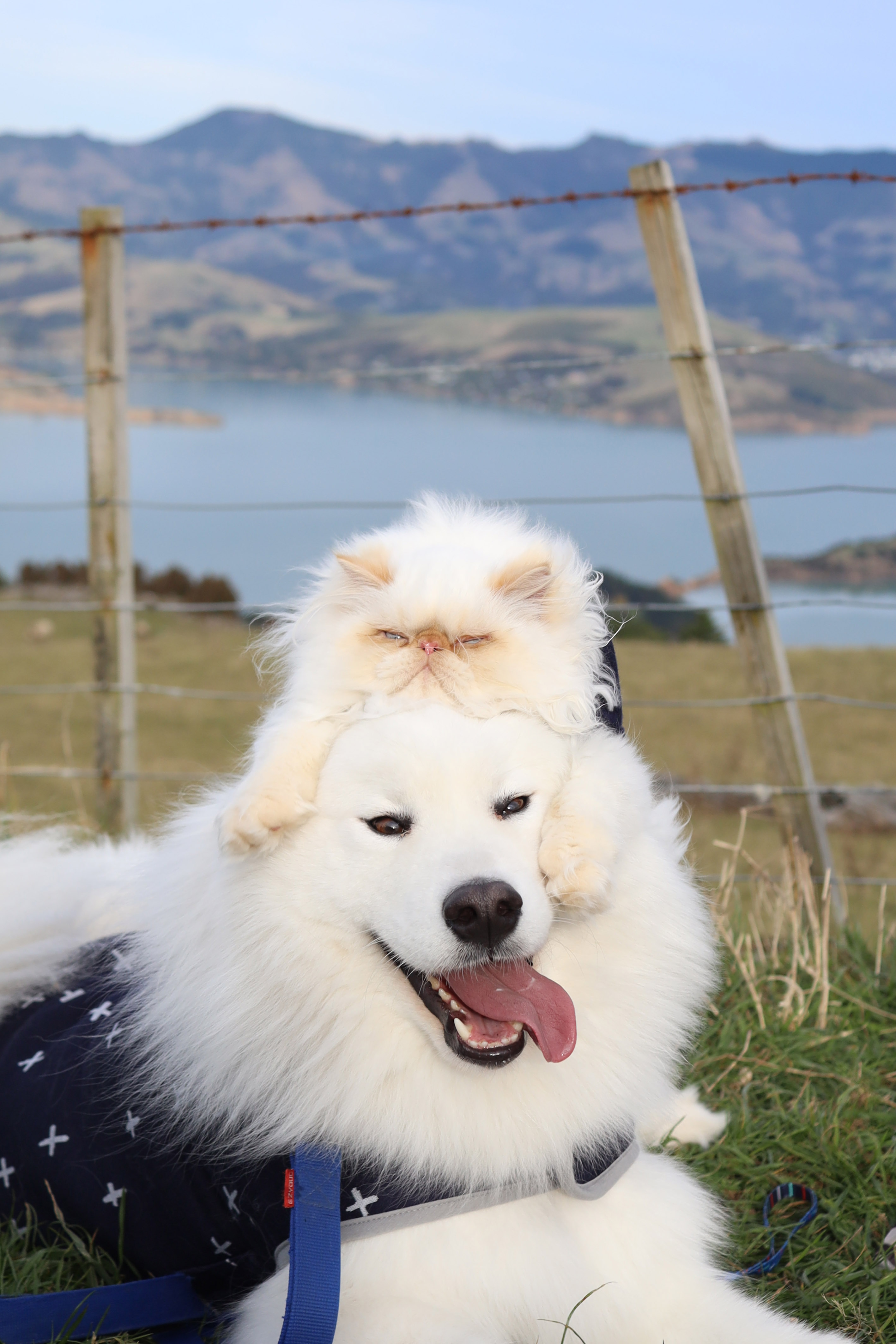 Romeo, a feline, enjoys hanging out with his canine sibling and closest friend, Casper. They are often seen together, as shown in the photograph by casperandromeo/CATERS NEWS.