When Nadija's friend and fellow cat foster mom for AnimalLuvr's Dream Rescue asked her if she would be willing to care for a tiny blind tortoiseshell kitten who had been rescued by Souls of Satos, an organization dedicated to helping animals in need in Puerto Rico, she eagerly agreed. "I have a huge soft spot for torties and actually have a blind cat of my own," says Nadija. "After seeing her picture, I could not say no!"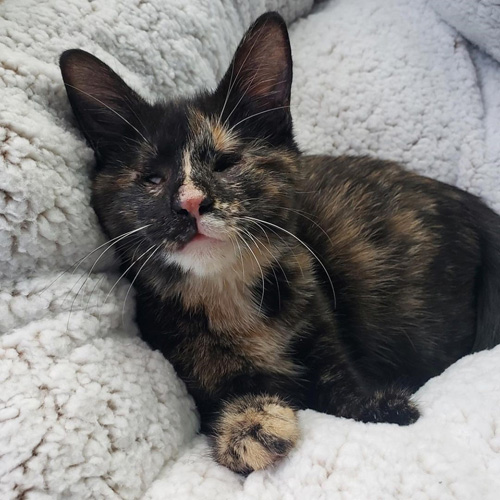 Nadija learned the kitten was just a few weeks old and living on the streets when her eyes became badly infected. Thankfully, she was rescued and taken to Souls of Satos, and while the organization did everything they could to save the kitten's eyes, they were irreparably damaged. "Even after receiving lots of meds, eye meds, and amazing care by Souls of Satos, she was sadly blind," says Nadija.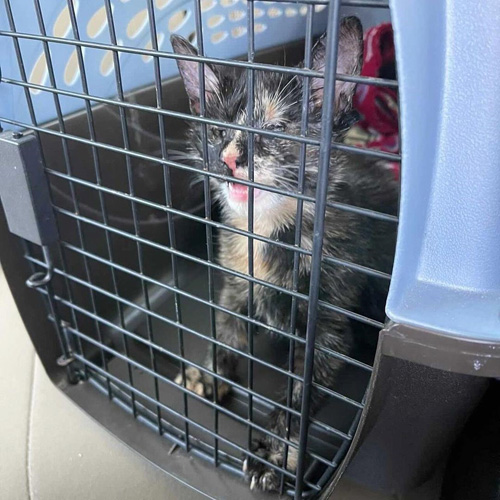 Because Souls of Satos specializes in helping dogs, the non-profit reached out to AnimalLuvr's Dream Rescue, and the organization — which is based in Riverview, Florida, a suburb of Tampa — agreed to assist the little blind cat. It took approximately one month for the two rescues to figure out the logistics of bringing the special needs kitten to Florida, but on April 14, 2021, she finally arrived at her foster home.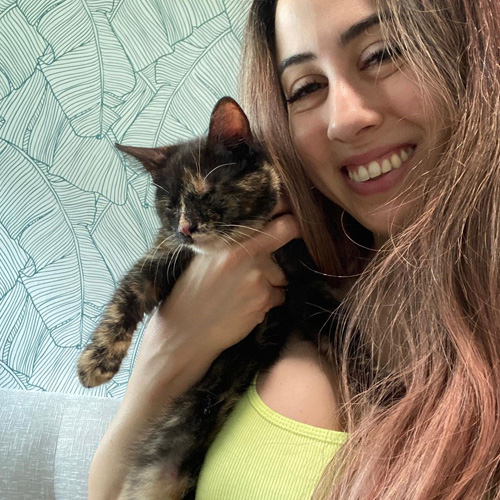 After considering a number of names, Nadija finally settled on Amelia, a nod to the mode of transportation the little cat used to get to her foster home. "Amelia Earhart was the first woman to fly solo and since Amelia flew to get to me I thought it was fitting," explains Nadija.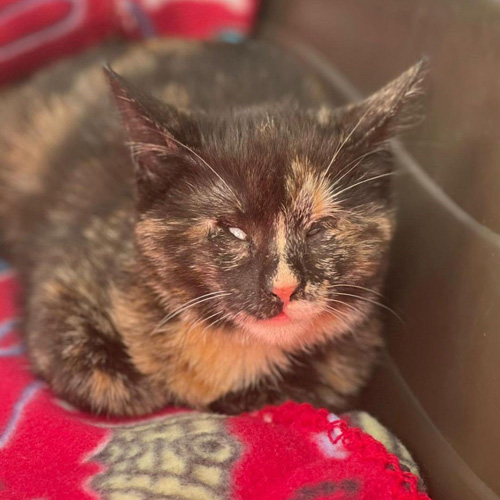 While Amelia enjoyed her plane ride, and even snuggled with volunteers during the flight, she had some difficulty adjusting to her new foster home. "Being blind and in a new place, with new people and smells, can be so scary," says Nadija. "She was very confused, scared, and not settling down for anything."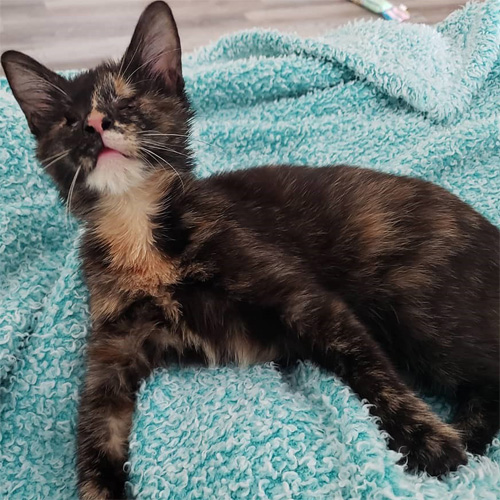 Even though the first 48 hours were very challenging, eventually the young feline relaxed and began to adjust to her new surroundings. After just two days, she was accustomed to Nadija and her foster home, allowing her true personality to shine through. "Once she was used to me and her space, she was just as her PR foster mom described," says Nadija. "Sweet, playful, and spunky!"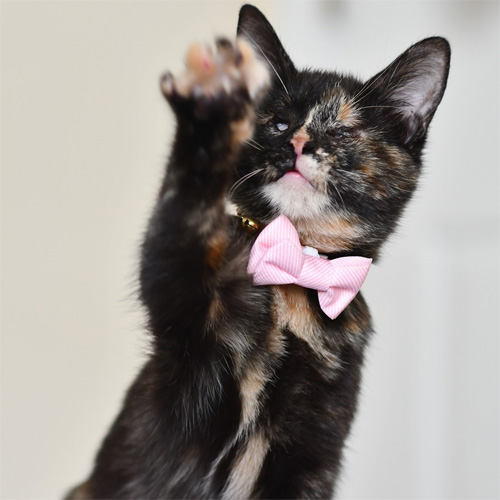 Not long after arriving in Florida, Amelia went to the vet, and an examination revealed her eyelids weren't completely open and her eyes were abnormally small. "This could be due to the infection, or potentially she was born with non-functioning eyes, which would mean she was blind her entire life," explains Nadija. While it's impossible to know if Amelia was born with some sort of congenital condition, her eyes were so badly damaged, she had to have them surgically removed.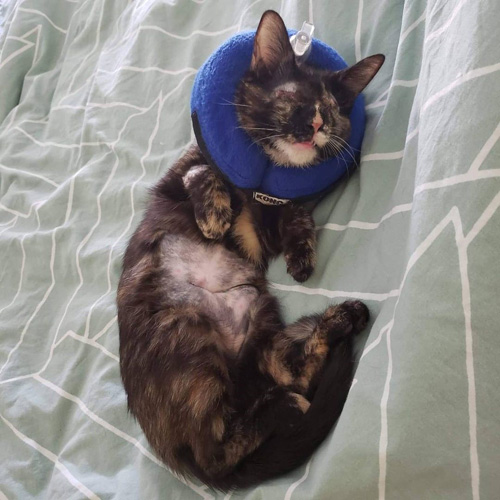 Fortunately, it didn't take long for her to recover from the surgery, and Amelia continued to blossom and thrive in her foster home. "I often hear how sad it is that Amelia is blind and I always giggle because she has no idea that she is blind and it doesn't stop her one bit," says Nadija.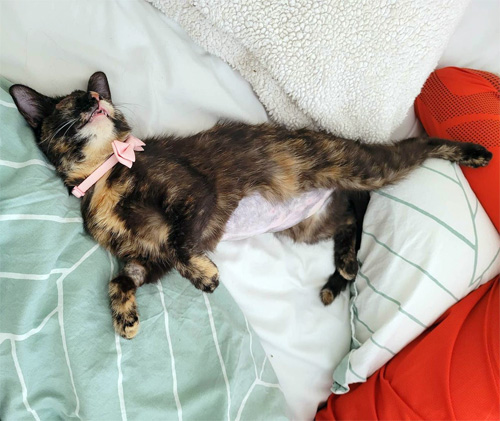 While people often assume blind cats have difficulty finding their litter boxes and food and water bowls, that was never a problem for Amelia. She also didn't have any trouble getting up and down from furniture, although when she first arrived at her foster home, Nadija would tap on the bed and couch to help Amelia determine the distance she needed to jump. "Once she got the hang of it, she became a pro," says Nadija. "Amelia runs, plays, jumps and snuggles just like any other kitten her age and doesn't need any extra care."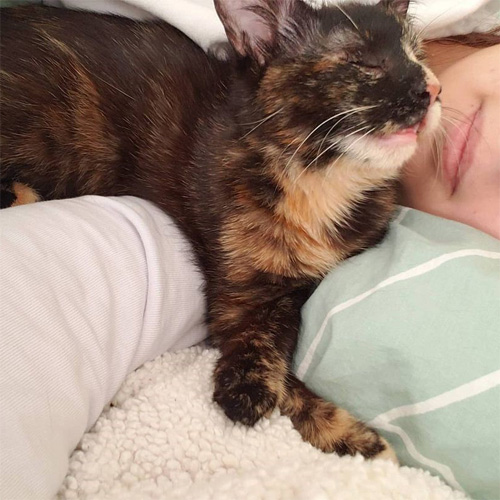 In fact, Amelia was one of the most fearless, playful, and mischievous kittens Nadija has ever fostered, and two of her favorite activities included biting her foster mom's ankles and annoying the other cats in her home. This beautiful tortie also enjoyed spending time on her foster family's screened porch — listening to birds and enjoying the breeze — and playing, especially with toys. "She is obsessed with the spring toys and will actually carry them around the house in her mouth," says Nadija. "She also loves the tiny catnip mice and bats them around all over the place. Even if she loses them she can easily find them with her sense of smell."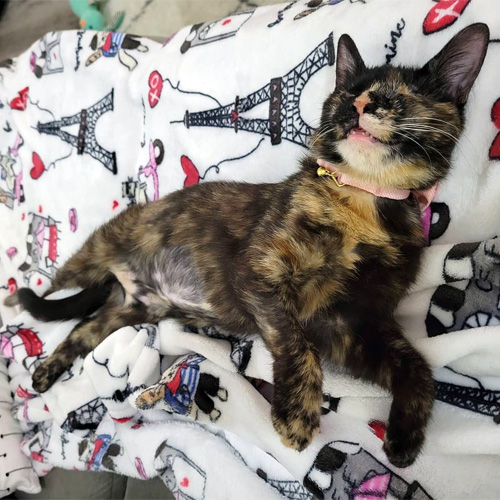 While Amelia uses her whiskers, hearing, and sense of smell to get around, Nadija thinks it's important not to change her environment too much, and she put collars with bells on all of her resident cats so this cute blind feline knew when they were approaching. However, aside from not rearranging the furniture very often and putting collars with bells on the other animals who share her home, Nadija believes this little blind cat didn't need a lot of special accommodations. "To us being blind is so scary and means so many adjustments," explains Nadija. "To cats, it's really not a big deal at all."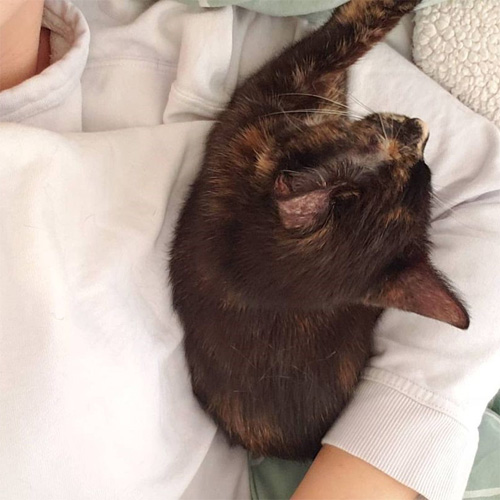 Thankfully, in late June 2021, Amelia was adopted by a wonderful couple who are giving her the patience and understanding she needs to thrive. While Nadija definitely misses this beautiful blind kitten, there's no way she'll ever be able to forget Amelia, especially the way she evolved from a frightened and confused kitten to an out-going and courageous cat. "Her confidence and brave nature is something to admire!" says Nadija. "As with any kitten that I foster, I love Amelia and she will always have a piece of my heart."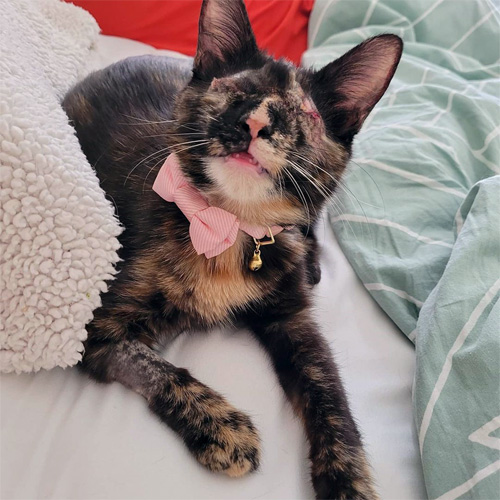 You can follow Nadija's other foster cats on Instagram.